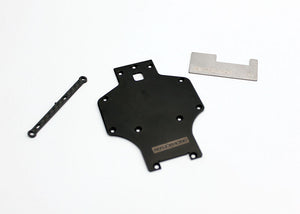 Reflex Racing
Reflex Racing - RX28A-22 - RX28 Optional Hard Steel Chassis Plate Kit - 30+5g
Regular price
$60.00
Sale price
$70.00
Unit price
per
Part Number: RX28A-22
This option chassis is designed to make your RX28 easier to drive in high bite conditions.  The chassis is made from hard coated stainless steel and has only a small front cut for a lot less flex and more than anything fore and aft rigidity.  The new shape also shifts the weight bias slightly forward and this aids the car to be smoother and easier to drive.  Additionally the chassis pivot has been lowered so that there is more forward bite and less traction rolling from the rear end. 

Included with this chassis kit is a 5g tungsten weight (to be installed with tire tape or servo tape) that fits around and behind the servo to lower the CG even further and help bring your car up to minimum weight when running lexan classes as well as making it easier to drive in faster categories. 

Lastly, the chassis uses the RX28SE Steering Bridge as this allows for more space for electronics.  The geometry is still the same, but this allows for a little more electronics configurations.
Contents

1 Hard Steel Chassis Plate Kit 
---