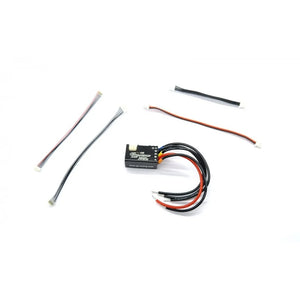 GL Racing
GL Racing: Bluetooth Sensored ESC (GL-BT-ESC-030)
Regular price
$99.80
$99.80
Unit price
per
Part Number: GL-BT-ESC-030
Description
Change to 32-bit MCU with ultra-smooth, faster response with precise throttle, brake and reverses control.
Support ~2.5A BEC ampere drawn which is raised up by ~70%.
Support ~30A instant ampere drawn by the motor which is raised up by ~80%.
Built-in Bluetooth device for advanced programming and firmware update through the mobile apps.
Apps available on both iOS and Android.
Real Time Data Analysis through mobile apps (Current Input & Output Throttle, Temperature, RPM, Adv. Timing, Voltage and min. voltage, Max Temperature, RPM & Adv. Timing).
Specification

Battery Input Voltage: 2S lipo
BEC: 6V/2.5A
1/28 motor Limit: 9000kv or below
Max Ampere draw: ~30A per phase
Size: ~22.7x14.0x9.6mm (not include the plug)
Weight: ~5.6g (without any wire installed)
---