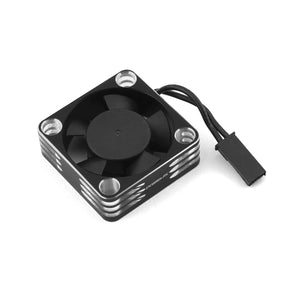 Protek RC
ProTek RC - 30x30x10mm Aluminum High Speed HV Cooling Fan (Silver/Black)
Regular price
$16.99
Sale price
$17.99
Unit price
per
The ProTek RC 30x30x10mm Aluminum High Speed HV Cooling Fan is a great option to keep your ESC and motor temps in check. The fan features a machined aluminum case that helps to dissipate heat, allowing cooler operation of the fan motor at high voltage specs. Plus the aluminum frame work adds strength to the assembly, helping protect the fan blades in the event of a crash.

The fan is a true 2S HV component, that has been built to last with dual ball bearings, and pre-wired 30mm long 2 pin JST connector. Plus, we include a 200mm long adapter plug that allows you to connect the fan directly to the receiver or another source of power. The fan can be mounted directly to the chassis with double side tape, or by using an optional fan mount (not included).

NOTE: This fan should be installed at least 5mm away from the motor to allow sufficient air flow and prevent magnet interference.
Features:
30mm aluminum cooling fan.
Ideal for ESC and motor applications.
Aluminum casing helps protect the fan blades.
Compatible with 2S HV LiPo systems (8.75V max).
Anodized black with silver chamferred edges.
2 pin JST connector and included extension for easy installation.

Specifications:
Fan Speed: 28,000 RPM
Dimensions: 31x31x10.5mm
Mounting Pattern: 24x24mm
Weight: 12.5g
Operation Voltage: 5V - 8.75V
---