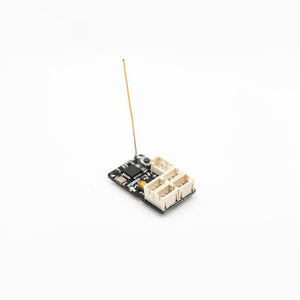 Flysky
Flysky - GMR AFHDS3 4-Channel 2.4GHz Receiver
Regular price
$39.99
Sale price
$44.99
Unit price
per
GMR is a new 4CH micro receiver for mini cars developed by FlySky, with a response speed as low as 5ms, suitable for different mini car frames (drifting / racing), with a built-in gyroscope interface and based on the latest AFHDS3 protocol.
GMR adopts a more precise circuit design, making GMR more compact and lightweight (2.35*1.35*0.7cm/1.7g). For all kinds of racing or drifting mini car frames, GMR can be easily adapted even in a confined space.
GMR has built-in gyroscope interface. After the gyroscope function is connected and activated, when the car structure has a virtual position, it can greatly reduce the sideslip on a straight road caused by it, and correct the direction of travel in real time. Moreover, when turning rapidly, it can easily keep the car body stable and smooth, effectively avoiding any drift or rollover.
Because GMR adopts the latest AFHDS 3 intelligent wireless communication protocol of FlySky, during a racing competition with mini cars, it can realize a strong anti-interference ability and a quick response within 5ms, accurate response to weak signals and active avoidance of co-channel frequency interference.
Other Features of GMR:

Supports online upgrade, with rich functions constantly updated.
Supports two-way communication, returning the status information in real time.
Supports 3.5-9V wide voltage input, breaking the equipment voltage limit.
Fully adaptable to Noble NB4, with rich operation and instant unlocking.
Awesome receiver
This is the fastest and best receiver I have ever used. It showed up way sooner than I thought it would. Thank you HOBBY ADDICTS YOU ARE THE BEST
This is a good receiver. I would prefer a better antenna setup
---