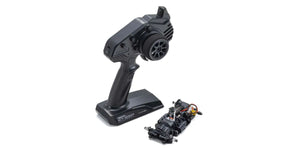 Kyosho
Kyosho: Mini-Z MR-03 RWD Chassis/Transmitter Set with Ball Bearing 32330SJB
Regular price
$129.99
Sale price
$199.99
Unit price
per
Part Number: 32330SJB
MINI-Z RWD MR-03W-MM Chassis installed with ball bearings and paired with a KT-531P transmitter. The set comes with front tread conversion parts and an RM motor mount allowing a wider body choice.
The MINI-Z RWD MR-03 series replaces the MR-03 Sports 2 and is positioned slightly above the predecessor. Combined with the new KT-531P transmitter and full ball bearing specifications.
This chassis transmitter set is great for converting an Auto Scale Collection into an RC car. You can convert the chassis from original W-MM specs into N-RM specs using RM motor case and front tread conversion parts.
The KT-531P transmitter features soft foam steering wheel, which will give you a higher driving pleasure, and the transmitter is equipped with the throttle trim control knob, which was omitted from the KT-19. The new RX unit is equipped with expansion ports for optional gyro unit (MZW446). The gyro effect can be adjusted by turning the small volume on the RX board, and the head light flashing speed can be remote controlled from the transmitter
Required to Run
Autoscale collection body, wheels and tires

AAA-size alkaline batteries x 4 or Ni-MH batteries x 4 for chassis.

AAA-size alkaline batteries x 4 for transmitter
Specifications
Length: Depends on the mounting body
Width: Depends on the mounting body
Height: Depends on the mounting body
Wheelbase: 98.0mm (LL)
Tread: n/a
Chassis: RWD(MR-03)
Motor Mount: MM
Front Wheel Offset: Depends on the mounting body
Rear Wheel Offset: Depends on the mounting body
Weight: Depends on the mounting body
R/C System: Syncro KT-531P
Contents
Factory assembled chassis (W-MM)
2.4GHz Perfex KT-531P 2.4GHz transmitter
Front tread adjustment parts set
Front suspension adjustment spacers
Pinion gears 6T, 7T, 8T, 9T
Wheel wrench
Pinion gear tool
Spare nuts
Pairing stick
Motor mount for change RM
---