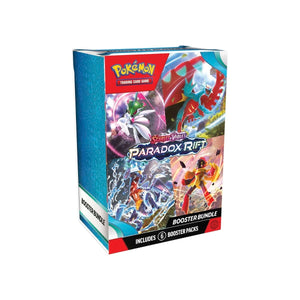 Pokémon
Pokemon TCG: Paradox Rift Booster Bundle
Regular price
$19.99
Sale price
$26.94
Unit price
per
UPC: 820650874123
Release Date: November 3, 2023
Please note: We attempt to ship the item so it arrives on the release date but may arrive shortly after based on shipping distance and when we receive our shipment.
Uncover the Anomalies of Area Zero! Dive into the clouds and explore a land that appears to be unbound by time! With ferocious attacks, Ancient Pokemon like Roaring Moon ex and Sandy Shocks ex appear alongside artificial Future Pokemon like Iron Valiant ex and Iron Hands ex. Meanwhile, Garchomp ex, Mewtwo ex, and others Terastallize to gain new types, as Armarouge ex, Gholdengo ex, and more Pokemon ex join the fray. Adventure awaits as timelines collide in the Pokemon TCG: Scarlet & Violet-Paradox Rift expansion! Expand your collection with this Booster Bundle containing six booster pack s from Pokemon TCG: Scarlet & Violet-Paradox Rift!
Contents
Includes six booster packs from the Pokémon TCG: Paradox Rift

Each booster pack contains 10 cards and 1 Basic Energy. Cards vary by pack.
---