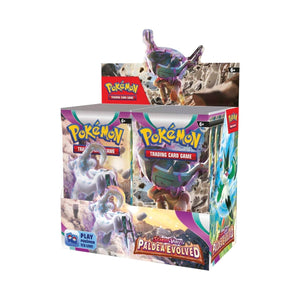 Pokémon
Pokemon TCG: Paldea Evolved Booster Box
Regular price
$104.99
Sale price
$161.64
Unit price
per
UPC: 820650863493
Release Date: June 9, 2023
Energy surges as new powers awaken and perilous legends are revealed! First partners Meowscarada ex, Skeledirge ex, and Quaquaval ex have evolved to take the stage with mesmerizing magic, song, and dance. Meanwhile, Forretress, Slowking, and Dedenne shine as Tera Pokémon ex, and Chien-Pao ex, Ting-Lu ex, and others bring daunting strengths requiring courage to command. Even Pikachu joins the Pokémon ex party in the Pokémon TCG: Scarlet & Violet Paldea Evolved expansion!
Contents
Includes 36 booster packs from the Pokémon TCG:

Scarlet & Violet Paldea Evolved

Each booster pack contains 10 cards and 1 Basic Energy. Cards vary by pack.
INCREDIBLE
Pulled a hyper rare out of the box!!! Very fun to open those packs too
Absolutely Amazing
Great customer service and product. Will order again.
Too many bad manufatured cards
We ran into too many cards that could not go into our colletion because of damage and poor cutting of the cards.
---