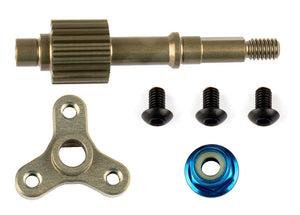 Team Associated
Team Associated - Direct Drive Kit - 91800
Regular price
$25.49
Sale price
$29.99
Unit price
per
UPC: 784695918009
Part# 91800
Features

Direct Drive top shaft eliminates the traditional B6.1 slipper clutch.
Weighs 30% less than the traditional B6.1 slipper clutch.
Faster acceleration from less rotating mass.
More efficient drivetrain may result in longer run times.
Recommended for Stock or Spec racing (17.5T and/or 21.5T motors)
This part fits the following vehicles:

RC10B6.1
RC10B6.1D
RC10B6.1DL
RC10B6.2
RC10B6.2D
RC10B6.3
RC10B6.3D
RC10B6.4
RC10B6.4D
RC10SC6.1
RC10SC6.2
RC10T6.1
RC10T6.2
Not recommended for use on carpet. Using the Direct Drive Kit on carpet will put too much stress on the idler gears and can potentially strip them. Team Associated is not responsible for damaged or broken idler gears.
The B6.1 FT Direct Drive Kit is not compatible with the Standup Stealth(R) Transmission.
Contents
(1) Top Shaft (Direct Drive)
(1) Direct Drive Hub
(3) M3x0.5x5mm BHCS
(1) M4 Locknut w/Flange
---